We're A Select Distinguished Club!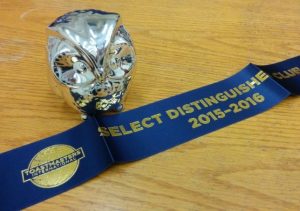 A few days ago, an envelope from Toastmasters International arrived in my mailbox. I opened the letter to find… our Select Distinguished Club ribbon for year 2015-2016!
The Toastmaster's Distinguished Club Program is a metric that Toastmasters International uses to measure how well a club serving its members. A club can earn a total of 10 points throughout the year. Points are awarded based on:
Members attaining communication and leadership awards by completing speeches and filling meeting/leadership roles
Growth in club membership
Overall club organization by the executive team
A Select Distinguished Club title is conferred when a club achieves 7/10 goals within the toastmasters calendar year, and I am happy to report that we have achieved that in the past year! Thanks to everybody in the club for delivering speeches, filling in meeting roles throughout the year, bringing friends to the club, and just generally making the club a great community to be part of and a great place to learn.
Follow us on the Distinguished Club Program Report page to see how we're doing throughout the year. Let's set a goal to be President's Distinguished Club (9/10) next year!